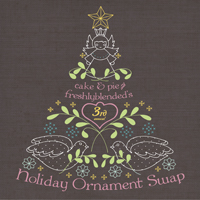 This year's
Holiday Ornament Swap
is here! You may be wondering what the heck that is. Basically, you make 10 Christmas ornaments and send them to 10 people. In return, you'll get 10 funky, fabulous ornaments from all over the world! It's a great excuse to get crafty and a wonderful way to connect with other crafters. I just peeked at my list and I'll be swapping with folks from all over the US and the Netherlands. I can't wait!

In the spirit of recycling and sustainability, I've decided not to buy anything to make my ornaments this year. I have a lot of crafting supplies in my studio, so I'm going to have to come up with a creative way to use them. Once I get going, I'll be sure to post photos here.

Last year, I made these sweet felt mittens. Aren't they cute? Check out other ornaments from last year on our
flickr page
.